Master Craftsman Omarion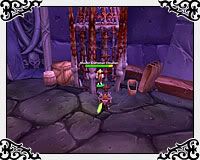 While i was in Naxxramas, i got the chance to visit the Master Craftsman Omarion. He's found in a cage in one of the first rooms in the Deathknight Wing of Naxxramas. As Omarion is badly injured, he hands you his
book
of secret crafting recipes, which you should bring to his old assistant Wilhelm (the greedy fuck!). If you're a mastercrafter (blacksmith, tailor or leatherworker with 300) and have at least revered with AD, Omarion will teach you the patterns for most of the frost resistance (FrR) armor parts. If you're none of those, Wilhelm offers to craft the pieces for you.. for a *tiny* fee in gold and some materials. The plate set is called
Icebane
. Helmet and pauldrons are drops, rest is being crafted.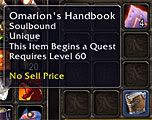 The
Frozen Runes
can be rare drops from the mobs or being acquired from runes that are attached to the walls, usually in boss rooms. To melt them down, you need to find scrolls,
Word of Thawing
, from trash mobs and use it on the rune at the wall. Those runes will yield approx. 6 frozen runes. Here is a
map with possible spawn locations
. So the runes are similar to the cores from MC. Beside being used for all the FrR crafting, they are used in the quest
Ramaladni's Icy Grasp
, which rewards you with
Ramaladni's Icy Grasp
. Did you realize this ring is an hommage to Indalamar from Nurfed? Rumours say you need to finish the Echoes of War quest and then find a drop (can be picked up by the whole raid) in Naxx to start the quest for the ring. After you finished the Echoes of War quest you'll also gain access to the Tier 3 quests and be able to hand in your mats. All the needed mats for Dreadnaught, you can see
here
.