The Sun Eater
Yesterday night we went to heroic Mechanar again. The time/badge ratio is just the best from all heroics and Pathaleon drops some nice warrior stuff. As the elevator door can still bug on you (Blizzard announced it will finally be fixed with the next patch - they said that two times before tho), it seems to help when all release at the same time after a wipe. We used this "method" through our last two runs and it worked fine. When we killed Pathaleon, i could jump for joy... he dropped
The Sun Eater
for me, finally! =)
Because of the additional dodge rating, this sword IMO is superior to the
King's Defender
from Karazhan. Of course the +hit is nice but maximizing mitigation is trump.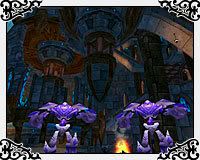 Before doing the heroic run, we ventured into Karazhan up to Curator. After we could convince the robot to bend the gallery rules for us, he was nice enough to grant me my T4 gloves:
Warbringer Handguards
. Now we need to work faster towards the prince, so it's possible for me to have a shot at the first set bonus (although its not that great).
If you want to track heroic keys for your guild, there is a new tool at
Antiarc's WoW Armory Tools
. It will query the Armory and give you a list that looks like
this
... quite nice.