High-Tech Toys for Boys...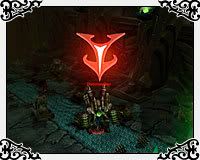 ...or did you never wished for getting a huuuge robot for christmas? Some days ago i was collecting herbs in Shadowmoon Valley, when the earth started to shake around me. I heard sounds of battle and went to check it out. There was a force of about 26 people from the
Lonely Adventurer Guild (LAG)
fighting
Doomwalker
. I sat on a small edge high up, took out some food and watched the fun with my
Ornate Spyglass
.
Seems it's a pretty tough fight and the whole raid takes a lot of damage. But if you ever fought the reavers in Hellfire, it sure is a lot of fun getting stomped by those large robots. As far as i heard, i left after one fight, LAG got Doomwalker down to 30% in the best try. Not bad for the first encounter, I'm sure they'll be back. With the next content patch the Black Temple will be implemented... it will be interesting if you have to sneak past the robot to enter - could be fun. ;)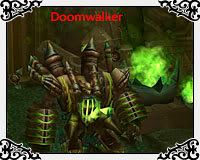 On a sidenote, i started a little (currently level 22) Draenei shaman named Teccor. It's great fun to play a shaman, although the starter areas are swamped with them - as everyone wants to try one. But making best use of totems and the difference between soloing and grouping, it's a lot of fun for me. I'm not sure how far I'll level him up yet. Our adventures in Karazhan are going well and we make good progress, I'll post more about it another time...
Labels: doomwalker