Imprisoned in the Citadel
Yesterday night we set up a group to do the
Trial of the Naaru: Mercy
in heroic Shattered Halls. Once you step through the door at Grand Warlock Nethekurse, a timer will start. There are three prisoners to be rescued, the first will be executed after 55min, the next 10min later and the last in another 15min. To finish the trial it will be sufficient if you manage to save the last one, which gives you 80min in total from gauntlet to dead Kargath. It might be a good idea to set a custom timer, as when you die, the "timer-debuff" is gone. There is another quest you can pick up right before the sewer entrance, called
Imprisoned in the Citadel
. To finish this one you need to save the first prisoner. We did not make it to solve that quest (who let the dogs out?!?), but from what info i could find it does not look like it's leading anywhere.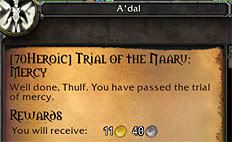 The bosses don't really change in SH heroic. They only hit harder and use their abilities more often... that was about it as far as i realized. The last Orc from the gauntlet is an additional "boss" in heroic, named
Blood Guard Porung
. I was lucky and got
Spaulders of Slaughter
from him. The last boss dropped... an epic gem, yay. After i finished the trials of Strength & Mercy it's only the Tenacity trial in Arcatraz left. So far it's still possible to summon people in after you finished the last boss off and all can complete the quest. Maybe we'll work on it over the next days. After the initial three trials, you'll get a 4th before you can obtain the key for the Eye:
Trial of the Naaru: Magtheridon
After reading
this topic
on the forums i had to check out the place myself. In Nagrand (50,13) is a small hut in the mountains, inside the hut are a handful of zombie babies from different races. Glowing eyes, scary toys... this place sure has an evil aura. If you see the sandbox, I'm sure the "pet" was alive ones and they ate it.
Two more topics that catched my attention: First a blue statement telling us
rare spawns replaced chests in Outlands
. Thinking about it, i only saw chests in the Draenei starting area, else only in instances. The other one is about
fixing sound problems
. After WoW introduced more sound channels i have problems as well from time to time. It seems WoW sound is overloaded and tries to use more channels then available, resulting in eg. combat sounds not being heard - very annoying. I'll try what is suggested in the thread and see if that helps.