Outlands, here we come
Soon it's time to install the expansion and enter the Outlands. All major cities were buzzing with activities of players getting ready, sorting their bags and buying or selling last-minute. Over the last one and a half weeks i got the impression some people sold their last shirt at the AH for absolute cheapo-price to free up space. Some raid communities sold their entire bank as they did split up to regroup in smaller communities in TBC. That the expectations are high is not only shown by some morons yelling in IF that they can't await it anymore or the flash countdowns you can see on all major WoW fansites, but also at the frustration & concerns of players after the last two mini-patches, which broke more then they fixed. Do i expect the expansion launch to run smoothly? Hell no! That's why I'm rather relaxed about what will happen. I won't get my copy before tomorrow afternoon, as the store by accident ordered the wrong game version. They ordered a German version, but i play with the international one. Luckily, how it looks now, they could fix it.
If all hell breaks loose, here are two links you might want to keep handy:
Expansion Account Upgrade
Account Management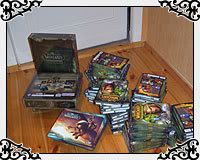 If you did not really bother yet about what and how things will happen, you could also read the official
Burning Crusade Expansion FAQ
. So what more to prepare for tomorrow? Are you already choosing which
Flying Mount
you should choose at 70?
BTW, isn't it lame that all epic gryphons look the same? Couldn't they at least have some different basic colors, like the normal ones?
Here are more links i found to Outland maps, which might prove handy for orientation:
Complete Outland Overview Map (with flight paths)
Zone Maps with POIs
I also saw two small videos you might find interesting. The first one is a preview for the Exploration The Escapade, a long awaited exploration video by Fanatik. Watch the Preview
here
. The other one is a small vid that shows how to enter the "stages" inside the AH and how to climb various buildings in Everlook, not really new stuff, but some might not know that. Check it out
here
.
So see you in the Outlands! And if you should find dropped alchemy recipes, contact me ingame, I'll pay premium prices for the ones i don't have.
PS: If you are a fan of
ItemSync
, like I am, here is the good news... finally the new version is out!