You are not prepared
...that's at least what
Illidan
seems to think in the new
BC Trailer (high-quality)
, now officially released by Blizzard in much better quality. As always a treat for your visual senses. ;)
As you can see on the pictures and most likely saw for yourself in WoW, christmas time is near and the larger cities are decorated for the Winter Veil fest. I'm not going to list all the things you can do over the holidays again. As my blog is around for over a year, just have a look in the archive for last december, nothing really changed.
If you're raiding, I'm sure your raid found some shaman loot as well? Yesterday in BWL we got 2xshaman on Razorgore, 2xshaman on Vael and one shaman later on as well. If you see the loot you only think "you must be fucking kiddin' me Bliizard!" Yes, we all know it will not change and we have to live with it until TBC comes out, but honestly.... how many of you think Blizzard was just lazy and implemented a lot of bugs/chaotic stuff with the last patch? I'm sure most will raise their hands.
Talking about faulty implemented things with the last patch, i recently got a tip you can buy figurines (crafted via jewelcrafting) in Theramore. The vendor is probably supposed to sell the designs, but atm she sells the crafted figurines.
Helenia Olden
sells (rare supply, but fast respawn) for 60s those two figurines:
Figurine - Truesilver Crab
Figurine - Black Pearl Panther
Not really very useful for a level 60, but maybe one or the other rogue would like the panther. But for characters at the appropriate level it's cheap and very good trinkets. Careful tho, as they are both BoP. Oh yes, and they'll summon small pets for the time the effect will be used.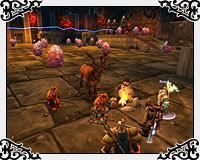 As a final note: Did you use an item DB as well? Maybe even
ItemSync
? I really miss that mod and don't really want to switch, as it was better coded then most others for the large amount of data to store. Here is the good news for you: Derkyle is still around and works on an
updated version of ItemSync
. Yay! Let's hope it will be finished soon, so i can collect item links again. ;)