Caverns of Time open
Since the patch it seems that some "pieces" of the new content also made it into the "old world". Not sure if it's a bug or some developer thought "Hey, let's hold out a carrot as a teaser - free marketing". One new area that can be accessed now, is the the Caverns of time - the door is gone, so is our friendly dragon that was standing there before. I wonder how people are supposed to hand in their quests now. Once you enter you'll encounter a bunch of NPCs roaming/guarding the cave. Some are occupied in experiments, some have interesting conversations how they temper with the timelines. Some of those NPCs are Draenei and Bloodelves, so if you want to see them "live", there you can.
The only interesting NPC you can interact with in there, beside a booze vendor and an armorer called Yarly (YA RLY, that's his name!) is
Provisioner Galgrom
.
He sells some of the standard, but high-level food, drinks and ammunition from the expansion:
Garadar Sharp
Filtered Draenic Water
Impact Shot
Wicked Arrow
The new ammunition can be bought from several vendors, the food/drinks only at him afaik. Nice stuff to take with you while adventuring and if you're, like me, allergic against magic food.
Here are a few more pics, but there is lots more to see if you've never been there. Maybe during the next days I'll post some screenshots how it did look before with the large hour-glass in the middle.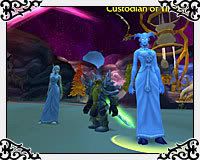 Labels: caverns of time, exploring