The Gnomish Crusade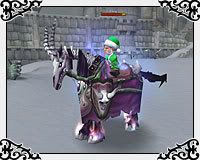 After the TBC cinematic intro was released, the gnomes want to show they will take over world domination in the expansion. Watch
The Gnomish Crusade
, a gnomish parody on the TBC trailer.
Good news for all of us who used the
WoW Model Viewer
. The favorite program is back with a new alpha version. I added the preliminary website to the links on the right as well. The bandwidth for the download on his website is exceeded at the moment, but i found a mirror here:
WoWModelViewer-0.5alpha.zip
Important: Make sure you extract it into a NEW folder (and not on top of an old version) and also delete the config.ini before you start it. Heh, what do you expect, it's alpha.. but works like a charm for the basics.
Did you realize the changes that sneaked into the live servers with reputation rewards for several factions? Reputation gained is not lowered by level anymore. This means for example you can gain 25 rep again for 5 troll necklaces in the Hinterlands. Or you can start to work on some low level Draenei quests and reach up to mid-friendly with them afaik. In addition twilight texts now yield 250 rep per 10 (previously 100 rep). Also interesting, the rep gain for the
Thorium Brotherhood
has changed. Now you get: Lava Cores, Fiery Cores and Blood of the Mountain yield a rep gain of 500, with 2 core leather giving 350, and a stack of Dark Iron ore giving 75. This is a huge boost for some. So if you always wanted to grind some of the reputation, maybe a good thing to do while waiting for the expansion?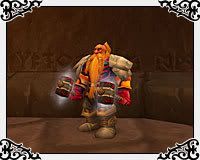 Since i respecced to Fury to have some fun while leveling in TBC, i was searching for better DPS weapons. So far either they did not drop or i lost the rolls. A few days ago i saw a Master Macecrafter named Valrim announcing he could craft the
Ebon Hand
. Since i wanted to get two new weapons better yesterday then tomorrow, i contacted hime and stroke a deal. We ventured into BRD to the black anvil and i got myself 2x
Ebon Hand
crafted, as you can see on the picture. I know there are better weapons to get, maybe I'll be lucky before the expansion... if not, those will do for a while. And at least it's a different look then all the GM weapons people wear like pimples nowadays. ;)
I'm still torn between the new talents/skills for warriors regarding TBC. As we're so heavily gear dependend the aggro skills for eg. druids & paladins will scale much better at the start. Of course soon we'll all be lvl 70, but is it a good thing to only balance skills around a certain level? With the lacking itemization from the expansion it's not by accident warriors complain at the moment. And if you look at the numbers, our aggro skills don't really scale that much. If you want to read two interesting threads about it, here you go:
One warriors findings on his trip to 70
Devastate -- Numbers & Good News
On a last sidenote: Apparently since the patch it's a very bad idea to have feral druids tanking Hakkar, as when the druid tank gets controled, Hakkar gets the Improved LOTP buff, and heals himself with every crit. I think that was funny, sorry guys... *bear hug*
Labels: movie, reputation, warrior, WoWModelViewer