Kidnap & Ransom Insurance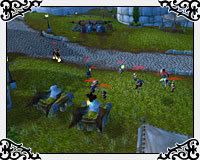 That's an insurance you could have sold to the players on the Mal'Ganis (pvp) server a few weeks ago (i missed this event before). Apparently members from «Goon Squad» captured the Theramore Isle flightmaster and kited him around,
holding him for ransom
. Alliance should buy out certain items from the neutral AH and they would release him. To underline their demands they also kidnapped the Ratchet flightmaster. Despite the fact that it sure did piss people off and interrupted their gameplay, i found this approach to world PvP hillarious. After this was going on for around five hours and more players complained about it, a
GM struck down the flightmasters
and killed them (so they could respawn). I laughed... :D
Yesterday in BWL i tested the Tonks a bit more. While waiting for the rest of the raid to appear it was great fun to have a
huge Tonk battle
going on. My first thought tho was, use the Tonk to explore a dungeon?! I can report you can only move around in a certain radius (quite large tho) around your character... if you drive too far, the effect will break. One thing i discovered is, that the Tonks only have a collision about their size. This enabled me to drive it
below
the closed doors into the room with Chromaggus or Nefarian. Interesting sideeffect.
Now to some funny videos i saw recently. Everyone knows that WoW can also affect your RL, but what happens when
Leeroy tries to destroy your business
?
And did you see the first recording of the
Burning Crusade Opening Cinematics
?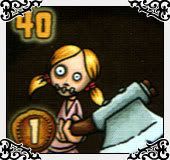 Did you see the
Skullcrusher Mountain
movie? I
knew
gnomes are insane! Wow, i really enjoy the more and more growing
machinima
szene! The song from the
Creepy Doll
movie reminded me about a card from the new boardgame
Formidable Foes (Fürchterliche Feinde)
. ;) Also watch the other movies from spiffworld, there you'll learn that
size does matter
and
in spring people are doin' it outside
.