PTR patch evaluation (long)
As I'll be away for one week (don't send me any potion/flask mats if it's urgent), here is my evaluation of the upcoming patch, which most likely will take you one week to read. ;)
As I'm mainly interested in changes to alchemy, warrior class and raids don't expect to see much other stuff discussed here.
Complete infos here:
Test Realm Patch Notes
.
General Stuff
The Black Temple
will be available, rumours (based on sound files from the .mpq) hint that you'll need to kill the first boss (phoenix) in the Tempest Keep to get attuned.
Barrier Hills
will be populated with high-level Gordunni Ogres now. O.o
The
Mongoose enchant
has a bright green/yellow glow now.
Stamina buffs from drinks (eg.
Rumsey Rum Black Label
) will not stack with stamina buffs from food anymore.
Gathering
will become more dangerous, nodes have been moved closer to mobs and in addition "alert" nearby cratures like some chests did already.
The item budget for armor has been re-evaluated, we'll have to see how much impact that has on the existing items. So far only T5 and higher items have been really reworked and gained stats.
Druid Epic Flight Form
will be available, there is also a kind of riding crop item druids will gain as well through their quest. I like the model, still would have voted for an
epic pelican model
tho. =P
There are new things you can buy with
heroic badges
. You can now buy
epic head pieces for 60 badges
each (great i just spend 41 for the DPS trinket *cry*), I like the tanking faceguard and would prefer it over the Eternium Greathelm - trading in 9 stamina for a ton of other stats sounds ok.
Note to my "heroic people": Let's get some groups done once I'm back. =)
You can now also buy Primal Nethers for 12 badges each.
Heroic difficulty instances end bosses will now always drop an epic item, in addition all bosses in Heroic difficulty instances will have a chance to drop an epic gem. That's a great benefit for doing heroics, as it was always annoying if you only got one of these crappy (like 80% of them are) gems instead of useful stuff. In addition all the
Epic gems
that dropped from heroics are now "Unique-Equipped".
There will be
new epic gems
available, don't know yet if they will be player crafted or drops or how to obtan them. The most interesting one for me is: Solid Empyrean Sapphire: +15 Stamina (blue socket)
Nethercleft
leg patch is 40 stamina and 12 agility now.
Note to self: Have to get me one of those.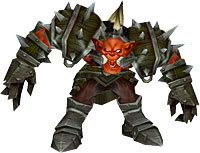 The
two new factions
being introduced have a few interesting things (for me at least) to feature:
The
Skyguard
sells a "Blue Riding Nether Ray" (swift epic one) mount at exalted. Those Nether Rays looks exactly like the ones you can see in the swamp already. IMO that might look much cooler then the Nether Drake mount. ;) At friendly you can buy rations (unique 20) from them that yields +30 sta & +20 spi.. which is something that sucks IMO, as these are as good a spicy crawdad. meh. They will also offer cloaks that have a "use: Reduces your fall speed for 10 secs", which could be cool for exploring.
The
Ogri'la
(funny name) will offer a crossbow with +11agi, +16sta and +11hit rating at exalted, which might be tempting.
There will be a
new craftable gun
(engineering) with +17sta, +15crit, +14AP as well (not from the ogres).
A bunch of the quests for
Ethereum Prison and Skettis
will be a bit Silithius like, but i guess we've to try them out first before we can complain. The questline for the
Netherwing
faction will have a "Daily", meaning you can do certain quests only once a day to gain faction.
Screenshots captured using the Print Screen key are now saved in JPG format. Like many others i hope this will be optional as the JPG screenshots i saw were heavily compressed and had lots of artifacts.
There will be new
trash mob drops
introduced in certain areas, which can be turned in by special vendor for potions & flasks that are only usable in certain areas as well. Many new flasks (last 2 hours just like normal flasks) for
Gruul's Lair
will be introduced for example:
Unstable Flask of the Bandit +20 Agi +40 AP +30 Sta
Unstable Flask of the Beasts +20 Agi +20 Str +30 Sta
Unstable Flask of the Elder +20 Int +8 MP5 +30 Sta
Unstable Flask of the Physician +20 Int +44 Healing +30 Sta
Unstable Flask of the Soldier +20 Crit Rating +20 Str +30 Sta
Unstable Flask of the Sorcerer +20 Int +23 Spl Dmg +30 Sta
"Only works in Blade's Edge Mountains Plateaus and Gruul's Lair."
Coilfang
will finally get a vendor who can repair added. This vendor will also trade healing and mana salves (only work in those instances) for Coilfang Armaments, which drop in more of the instances there now.
"Halaa Ammo" has been reduced in damage and soulbound, but you can carry any number of them.
Additional darkmoon cards
can now be found on high level outland creatures. They can be turned in to the darkmoon faire to make powerful new darkmoon card trinkets. So there will be some trading/collecting going on again.. i think that's nice, did not see the new trinkets yet tho.
Warrior changesCommanding Shout
won't heal you anymore. meh. All trinkets eg. Lifegiving Gem will work the same, no healing from those anymore.
Charge
,
Intercept
and
Intervene
now suppress all Slowing effects while charging the target. This is a nice change, might be handy every now and then.
Revenge
has a base damage of 414-506 damage now. The threat bonuses have been adjusted so that the threat generated remains relatively unchanged. Wow, nice damage increase here.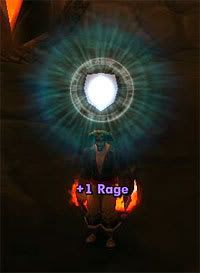 Devastate
changed into: An instant weapon attack with both weapons that causes 50% of weapon damage + 15 for each application of sunder armor on the target. In addition, this attack will renew the duration of Sunder Armor effect. (The offhand swing is suffering from the 50% dual wield penalty as well, though.) This is a great DPS increase for prot warriors! Having 2x Blinkstrike seems even better now for me.. hehe. This will be interesting to test while soloing/grinding. Like it a lot.
Spell Reflection
no longer has a global cooldown. Awesome change as well, makes it a viable rage dump skill now while tanking. Now i only need an extra mod that tracks which spells i reflected. Hmm.. maybe just have to configure my combat log different. One annoying thing for PvP tho: The animation was changed and is now *very* obvious (see pic).
The
flurry
change was probably made because of the changes to when Glancing Blows occur, must see tests from this first, before complaining.
Alchemy changes
The chance of a
discovery
occurring while making potions has been substantially increased. Only time will tell how much it was increased.
You can change your
alchemy mastery
now. You need to go to the NPC you learned your mastery from, and from there you can drop it for 100g.
Elixirs now stack (in stacks of 20 now btw) in two categories,
Battle
(Offensive) and
Guardian
(Defensive)
Elixirs
. You can only have one of each. Flasks will take up both slots. Categories:
Battle elixirs:
Elixir of Major Shadow Power
Fel Strength Elixir
Elixir of Major Agility
Elixir of Major Fire Power
Elixir of Major Frost Power
Elixir of Mastery
Elixir of Healing Power
Elixir of Major Strength
Adept's Elixir
Onslaught Elixir
Guardian elixirs:
Elixir of Major Mageblood
Mageblood Potion
Elixir of Major Defense
Elixir of Draenic Wisdom
Earthen Elixir
Elixir of Major Fortitude
Elixir of Ironskin
The herb cost (and the vial cost) for all elixirs have been reduced, however, so has the effect for some. Eg. Fel Strength Elixir only requires 1 terocone, 2 nightmare vine now. (from 2 terocone).
*
Fel Mana Potion
now has -25 magic damage and -50 healing power debuff from 25 all magic spells and effects. Restored mana is the same.
*
Fel Strength Potion
changed to 90 attack power and -10 stamina debuff 1hour, from 120 attack power and -20 stamina debuff 1hour.
*
Major Fire/Frost/Shadow power potions
are all now +55 fire/frost/shadow damage 1hour. (Fire and Shadow used to be +65 damage).
*
Major x protection potion
cost increased to 3 mana thistle + 1 primal x, but produces 5 potions instead of 1. It looks like tho, they now have a 2 minute duration instead of 60min.
There are some rumours about
cauldrons
that serve like wells, but no one knows exactly what's the deal with them and if they will be player (alchemy) made.
Invulnerability
potions now stop the first 120 damage per hit for 8 seconds, rather than making the imbiber physically immune. The nerf to those was expected, they were just too powerful for such a low-level potion.
The
four new elixir
(all last 1 hour) recipes are:
*
Elixir of Draenic Wisdom
: Intellect and Spirit are increased by 25.
(trainer learned)
*
Earthen Elixir
: Reduces both spell and physical damage taken by 20.
(Cenarion Expedition honored)
*
Elixir of Ironskin
: Resilience is raised by 30.
(Halaa Quartermaster, 2 research tokens)
*
Elixir of Major Fortification
: Increases health by 250 and provides 10 health every 5 seconds.
(trainer learned)
The patch notes state changes to the mats for mana/healing pots, but so far they are the same on the PTRs.
Some
major changes to flasks
as well. New stats:
Flask of Fortification 500 HP and 10 Defense Rating
Flask of Mighty Restoration 25 MP5
Flask of Relentless Assault 120 AP
Flask of Arcane Fortification 35 Arcane Resist 20 HP5
Flask of Shadow Fortification 35 Arcane Resist 20 HP5
Flask of Titans 400 HP
Distilled Wisdom 65 Intellect
Supreme Power 70 Spell Damage
Chromatic Resistance 25 Resist All
Flasks costs are reduced
to: 7 most herb, 3 other herb, 1 fel/black lotus (examples: Distilled Wisdom = 7 dreamfoil, 3 icecap, 1 black lotus - Flask of Mighty Restoration = Dreaming Glory x7, Mana Thistle x3, Fel Lotus x1).
The
drop rate for Fel Lotus
is also being increased by approximately 15%. There will be additional spawn points for black lotus now. In addition all herb skinable creatures will have a chance to drop a black lotus.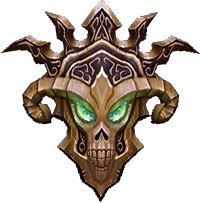 In the sum up these are some major changes how alchemy consumables work. I still think it's a good thing to do, the power of consumables will be driven down and farming for them is taking less time. The gear you wear takes a more important part then how many consumables you can bring. While some eg. stacking stamina buffs have been nerfed badly, we'll have to test how much impact it really has on the encounters. The design of new encounters and less balancing around consumables will be a good thing in the long run for the designer. As potions remain unaffected, those will play a bigger role in raids now. It can be expected that peole eg. bring some of those 15sec boost pots to use eg. at the start and end of a fight. Tanks will still have to heavily invest into the Ironshield potions (cost approx. 10g per pot) and healers will still have to stock up on mana potions. Looking at the changes i think you can rely on DPS to either use the boost potions or use more healing potions so they'll pull their weight as well. For tanks these changes (and the resulting lower HPs due to consumables) IMO have the side-effect that the stamina gems for all your sockets are even more desirable now.
More comments on the changes and news when I'll be back and there is more info coming from the PTRs.
As a final goodie, here is a
video of the new T6 models
, guess I'll have to reroll a warlock. *chuckles*
Oh yes, and let's not forget to be happy to a major buff to the gnome race, which will help them on their way to world domination:
In the Black Morass, gnomes are now able to run through the water like other races.